Friends of Cottonwood Bushland Reserve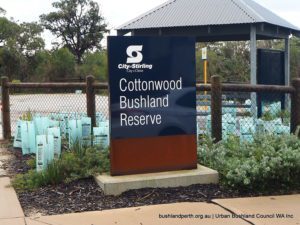 Cottonwood Bushland Reserve, previously known as Channel 7 bushland, is 10 ha of pristine bushland in Dianella adjacent to the new Seven Hills Housing Development. The Reserve is a remnant of once extensive bushland in the area and has been protected by being fenced off from the public for 30 years.
A crest of a remnant sand dune, sloping gently to the east, supports a range of vegetation types because of the variations in height and the presence of underlying limestone.
Many species of birds and several small mammals have been recorded. After several years bats have taken up residency in the bat boxes.
The Reserve is also home to the Western Jewel Butterfly and the Graceful Sun Moth.
Stay in Touch
Interested in knowing more about this glorious bushland in Dianella, Western Australia?
Subscribe to our mailing list keep in touch with opportunities to develop a relationship with this beautiful place.  You'll be the first to know about upcoming bushwalks and other events.
Like Cottonwood Bushland on Facebook.
Join our Friends Group to get involved in caring for our precious urban bushland, gain new skills, make friends, and connect to nature.  Email cottonwood.bushland@gmail.com to join us.
Friends of Cottonwood Bushland Reserve Location
Friends of Cottonwood Bushland Reserve Gallery