Lake Nowergup/Carabooda Valley Community Group
This Page is not presently being maintained – see below for Current Status of the Campaign.

About the Lake Nowergup/Carabooda Valley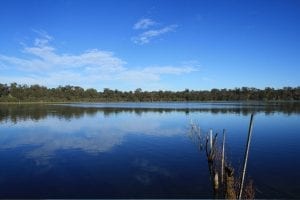 The Lake Nowergup/Carabooda Valley is located just off Wanneroo Rd, approximately  12km north of Joondalup and about 5km from Mindarie.
The area is a unique rural, heritage and conservation precinct.
At its heart lies Lake Nowergup Fauna Sanctuary, the deepest permanent lake in the metropolitan area. It has a high diversity of birds with over 56 species recorded which are dependent on permanent wetlands.
This lake is on the Register of the National Estate because of its ecological values. The area is adjacent to Neerabup National Park and Bush Forever Site 383.  The area has high conservation values.
The Nowgerup Lake valley is an extremely attractive heritage landscape, offering very scenic limestone karst and tuart features as part of the linear wetlands.  The Yaberoo Bushwalk Trail from Joondalup to Yanchep passes through the National Park and there is great potential  to expand this trail by incorporating the Nowergup Lake and the associated valley and kaarst limestone and tuart landscape into a future regional open space servicing the Alkimos Region in one of the fastest growing local governments in Australia.
Why we are active
We are a group of local residents of the Nowergup/Carabooda Valley who have come together in our united goal of protecting the unique rural, heritage, landscape and conservation features in our local area.
Our objectives are:
To protect our local environment and community from the continuing threat of extractive industries and other industrial developments.
To raise public awareness of the amenity values of the local area in terms of its proximity to Neerabup National Park, Lake Nowergup and Bush Forever 383.
To bring into reality the vision for landscape enhancement, amenity, tourism and passive recreation as identified and planned for by both the State Government and the City of Wanneroo over a number of years in such studies of the area including:
The Campaign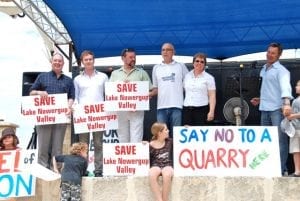 The community has been campaigning against a proposal by WA Limestone to establish a new limestone quarry and concrete batching plant on seven hectares of virgin native bushland on Wanneroo Rd less than 500 metres from Lake Nowergup.
The wider community support has been significant and sustained with bipartisan support from all local members of Parliament:
John Quigley MLA,  Member for Mindarie, Giz Watson MLC, North Metropolitan Region, Lyn Maclaren MLC, South Metropolitan Region, Michael Mischin MLC, North Metropolitan Region, Paul Miles MLA, Member for Wanneroo, Albert Jacobs MLA, Member for Ocean Reef.
Current Status
From: "Sabine Winton" <sabinewinton@gmail.com>;
Sent: Tuesday, 21 May, 2013 10:58pm
To: "Mrs Winton" <sabinewinton@gmail.com>;
Subject: DAY 1437 and its over!!
IT'S TIME TO CELEBRATE
The Minister for the Environment Albert Jacob has DISMISSED THE APPEAL BY WA Limestone.  (Download).
No clearing permit. 
It's over. 
1437 DAYS and we did it.
We have just protected 7 hectares of prime bushland next to Lake Nowergup. 
A WONDERFUL DAY.
Thanks to every single person who liked us on facebook, emailed, signed petitions, phoned, attended meetings, handed out flyers, attended rallies and meetings……and never stopped believing that this proposed quarry always was quite simply in the wrong spot.
Congratulations to Minister Jacob. You have protected the environment well.
However a Caution – The Minister concluded his decision with:
"The Minister noted that this decision does not preclude the appellant from applying for a clearing permit in the future, where the applicant will need to address the issues raised in the DEC's assessment as well as any residual impacts.
Finally, the Minister noted that the DEC's advice refers to discussions around a potential exchange of land. As this is a matter relating to the Planning Portfolio, the Minister wrote to the Minister for Planning advising him of the decision on the appeal and offering support for any land exchange proposal which optimises the outcome for the environment".
We will continue to be vigilant.
Previously
From: Sabine Winton
Sent: Tuesday, October 02, 2012 10:17 PM
Subject: DAY 1232 Lime Industries Are Back 5 more Minutes Needed
Hi Everyone
I don't ask for help unless it is really important. It would be really appreciated.
For those of you who have followed our campaign over the longer haul, you would know about our battles with Lime Industries.  They coincidentally own the site adjacent to the WA Limestone proposal.
Check out the Flyer Master pdf to see where this might be heading!
I'm no business expert, but it would seem to me to be a pretty nice spot to industrialise with its quick access to the Alkimos region.
Under the current zoning, only mining can be contemplated.
And so it is that Lime Industries has now made an application for limestone quarry and Mining Driver Training School. It appears that they are going to use a Mining Driver Training school to do the mining for them.  Under the current zoning Mining Driver Training School is Educational Setting, a use not allowed in the current zoning.  So the thinking goes that if they get the Mining Driver Training school to do the mining then the City of Wanneroo ought to grant them approval.
Remember, you helped us stop Lime Industries and RMS Recruitment and Training from unlawfully operating on the site.
Remember, you helped us to make the DEC stop issuing them with a licence to manufacture Lime and burn their kilns.
They have never, ever had approvals from the City of Wanneroo.
So now we need to convince the City of Wanneroo to stand its ground and stand up for the community's wishes.
Oh and how much valuable limestone resource are they planning to extract?  Less than 30 000 tonnes a year.  Hardly an amount that would make any difference to this notion of providing basic raw materials to keep housing affordability down.  And we have Statutory Declarations from surrounding landowners stating that there has been no evidence of mining or lime manufacturing for many years.  The DEC even have stated that they have been in caretaker mode for many years.
Interestingly too is the fact that they have modified their application and withdrawn their application to relocate their Osborne Park Lime production factory.
Please put in a submission.
Download the Flyer.  (Download).
CoW Residents Submission Letter.  (Download).
Local Residents Submission Letter.   (Download).
Sabine Winton Says
"The longer this goes, the stronger the community seems to be becoming.  It is outrageous that the State Government is not making this issue a priority despite our efforts and concerns for nearly 3 years.  The Government's failure to resolve this issue is anti community and a neglect of the environment.  Why don't they see the  potential for this area as regional open space? The Lake Nowergup Valley has so much to offer the Northern Corridor, Alkimos Region.  All the other wetlands have dried up.
This proposal is for a tiny quarry.  Surely the value we as a community and Government place on a wetland that isn't actually dried out, on Tuart Woodlands and caves is higher."
"The clearing permit is going to be a huge hurdle for WA Limestone if recent decisions by the DEC to protect vegetation is anything to go by.  We still hold fears that the real future plans for this site might be to establish a cement batching plant like the one the State Government allowed to operate in Neerabup National Park off Hester Ave, run by BCG."    Sabine Winton, Spokesperson.
Contact Details
Sabine Winton  0427 608 627
Mark Zagar 0419 900731
Downloads
Where we are.  (Download).
Brighton Picnic.  (Download).
Yaberoo Budjara Heritage Trail.   (Download).
Parks and Reserves of Yanchep Draft MP.  (Download).
The Future of East Wanneroo – Land Use and Water Management.  (Download).
Lake Nowergup/Carabooda Valley Community Group Location
Lake Nowergup/Carabooda Valley Community Group Gallery