Canning River Residents Environmental Protection Association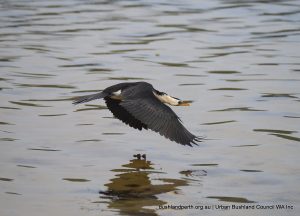 CRREPA is a local community-based, not-for-profit, voluntary organisation working to protect and restore the health, diversity and productivity of the Canning River, in particular the Yagan Wetland Reserve and the Rossmoyne/Shelley foreshores.
We work with state and local government agencies as well as with local schools and organisations. CRREPA is recognised as a knowledgeable voice on foreshore conservation issues.
CRREPA obtains grant funding for conservation projects and has various sub-groups actively involved in 'hands on' environmental activities.
Why we are active. CRREPA was formed in May 1994 by Canning residents concerned by the degradation of the Canning River and Yagan Wetland Reserve. Our main aim is to ensure that the unique lower Canning and Bullcreek riverine environment is both restored and conserved for present and future generations to enjoy.
The catchment area. CRREPA's focus area is within the Canning Catchment, in particular the Rossmoyne/Shelley foreshores, Yagan Wetland Reserve, and the Bullcreek inlet within the City of Canning.
The focus area contains a variety of Swan Coastal Plain habitats including Melaleuca and flooded gum flats, reed beds and areas of open water. These support a variety of water birds and invertebrates as well as providing an attractive and interesting urban experience for the local community. Together with the Canning River Regional Park, the area forms a link to the upper Canning and creates an important corridor for wildlife.
CRREPA Site Tours 
CRREPA has been busy this year with many site tours including three education/awareness focused tours exploring the variety of rehabilitation approaches that we have been using since our inception in 1994:
South Metro TAFE Conservation and Land Management Students joined us for the fourth year (May 17);
Members of the Urban Bushland Council WA Inc (September 12); and
Members of PerthNRM (September 23).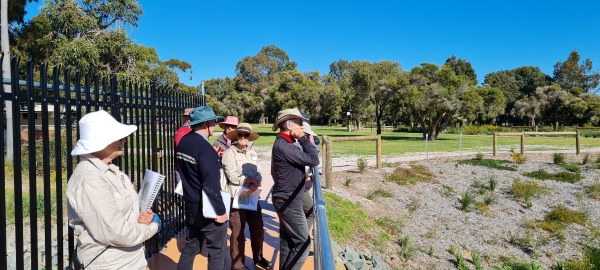 In addition, it was great to have CRREPA Members also join these tours – a fabulous way to step back and see what, why and how the rehabilitation works have been undertaken in collaboration with others, in particular the City of Canning (CoC) and the South East Centre for Urban Landcare (SERCUL).
This year we included the fabulous Nurdi Living Stream that has created a much more interesting habitat for birds and insects as well as for the local community.  Once the waters settle and move thru the two basins to remove nutrients and chemicals it travels north in pipes under Leach Highway near the Corinthian Tennis Club and eventually feeds directly into our patch at Grecian's Spit (Beatrice Avenue).
We are grateful to Cat Williams (SERCUL) for guiding us at Nurdi Living Stream, to Max Box, City of Canning Natural Areas Team Leader for guiding in May and to Grecian, Stephen, Sue and Colma for representing CRREPA and guiding along our foreshore.
We have also pulled together some very informative photo-books that demonstrate the amazing achievements of all our collective hard yakka!  Click here to check some of the sites out – many that you would have contributed to.
If you would like us to run some more site tours for you, family, neighbours, friends – let us know. A great way to introduce new and old residents who may hopefully join us to continue our important and impressive work.
For More Information and Contact Details
Canning River Residents Environmental Protection Association Location