Friends of Perry Lakes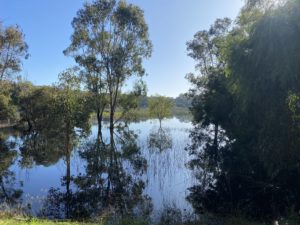 The Friends of Perry Lakes is a local community organisation dedicated to celebrating the Perry Lakes natural area, located in Floreat. Our purpose is to participate in and advocate for the conservation, restoration and enhancement of the Perry Lakes Reserve for the enjoyment of current and future generations.
Help us to protect and enhance the Perry Lakes natural area
We work in collaboration with the Town of Cambridge to coordinate activities that bring together the local community in support of this beautiful natural area. We advertise all details around our events on our website and Facebook page.
Monthly Field Works (weeding and planting)
We usually meet on the third Sunday of the month at the location on the map to undertake weeding and planting activities within the reserve. We meet at 8am April-October and 7am November-March and usually work for around 2 hours.  The work is led by our Work's Coordinator, who, in consultation with the Town of Cambridge. identifies the area and objective for the morning.
Adopt a Spot
If you're a regular visitor to the reserve and would like your own small area to care for, then you may be interested in adopting a spot. Contact us or speak with the Works Coordinator at the next weeding day to discuss options.
Educational Talks
We hold monthly educational talks on areas of interest to our membership. Previous topics we have covered include the hydrogeology of Perry Lakes and a bird walk around the lakes.
Social Activities
We hold social activities throughout the year to enable members to get to know each other.
Join us
We are always on the lookout for new members and welcome you to join our group. Further information is available on our website here or contact our secretary at secretary@friendsofperrylakes.org. We also issue a quarterly newsletter which outlines past and upcoming activities. Please contact us if you would like to join our mailing list.
Contact
Email: secretary@friendsofperrylakes.org
Friends of Perry Lakes | Facebook
Friends of Perry Lakes Location