Friends of The Spectacles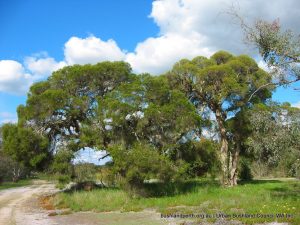 Wanju Wanju Djinining  –  Welcome to the Spectacles.
The Friends of the Spectacles (FotS) is a volunteer group caring for the Spectacles wetlands located in the City of Kwinana.  The group was formed after a major bush fire swept through the wetlands in December 2007 and works to support the rehabilitation of the wetland area through activities such as re-vegetation, seed collection, propagation, and weed control.  
FotS is committed to working with the local Nyoongar people to gather knowledge on how to best work with the land. Elders are consulted about the activities conducted by the group.  FotS coordinate a Naidoc Week cultural tour and host other events of various themes throughout the year.
The Spectacles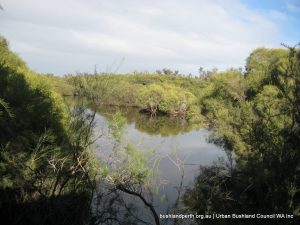 The Spectacles is 360 hectares of natural bush and wetland, and is a part of the chain of wetlands that make up the Beeliar Regional Park.  It is the largest fresh-water lake in the town of Kwinana and is situated between the Ramsar wetland areas of Thompsons Lake and the Peel-Yalgorup system.
The Spectacles wetlands has one of the largest stands of Paper-bark woodland in the metropolitan area and Birds Australia have identified 87 species of water birds, birds of prey and woodland birds.
The wetlands are a breeding ground for the Rufous Night Heron and the Swamp Harrier.  There are a number of land animals including; bandicoots, snakes, occasional wallabies, possums and bats.
The area is a significant site for Aboriginal people being a part of the Wajuk peoples traditional land situated in the greater Nyoongar language group that encompasses the south west of Australia.  The Spectacles is on the ancient trade route that follows the fresh water lakes system connecting the people of the Murray and Swan Rivers and has cultural significance as a ceremonial, camping and food gathering site.
Infrastructure at the site includes interpretative signage, a boardwalk over the lake, bird-hide, amphitheatre and sand dance floor.
Contact
The Friends group meet every 3rd Sunday of the month between 9.00am and 12.00pm.
Park at the McLaughlan Road car park and follow the path way down to the Amphitheatre area.
Contact: Lynda Smith  0419 983 956.      Email:  fotsmail@gmail.com
Friends of The Spectacles Location
Friends of The Spectacles Gallery