Friends of Trigg Bushland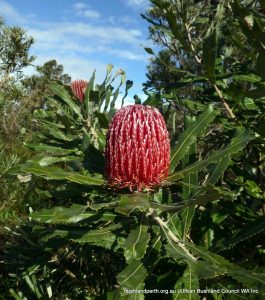 A feature of Trigg Bushland is the parabolic dune, sand dune blow-outs that have been stabilised by a long process of revegetation. Few examples of this type of landform remain within the metropolitan area. The northern rim of the major Trigg parabolic dune borders Karrinyup Road and reaches its eastern extremity just short of the corner with Jeanes Road. The southern rim borders Jeanes Road.
The dunes are composed of white Quindalup sands formed within the last 6,000 years, during a period of rising and falling sea levels. A close examination will reveal shell fragments typical of beach sands.
As these dunes advanced they buried the limestone and yellow sands of the 100,000 years old Spearwood dune system. In some parts of the reserve, north of Karrinyup Road for example, Spearwood sands still occur at the surface.
Events
Guided walks in Trigg Bushland – Every 5th Saturday of the month – 4 times a year. Contact – Mitch Polain for time and location – M 0488561583
Weeding days – 1st Sunday of each month – Contact – Mitch Polain for time and location – M 0488561583
Contact Details and More Information
Friends of Trigg Bushland Location