Common Groundsel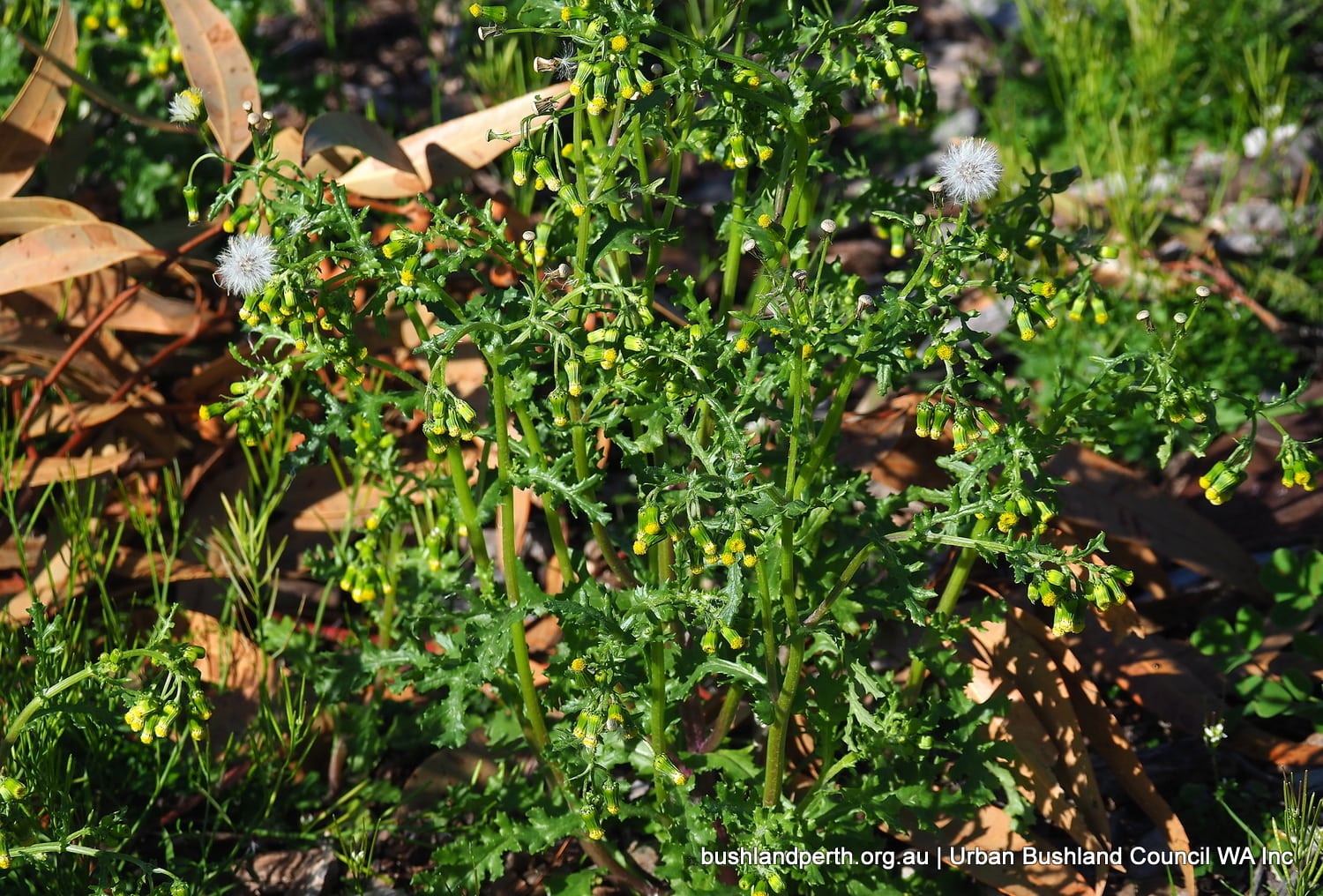 Common name
Common Groundsel
Scientific Name
Senecio vulgaris
Type of plant
Daisies & Thistles (Family Asteraceae)
About this weed
Originally from northern Africa and  temperate Asia, Common Groundsel has now naturalised throughout the world and generally only persists in disturbed sites. It produces yellow daisy flowers from late winter through to summer. It is a particular problem in irrigated  vegetable crops on the Swan Coastal Plain.
Description
Commom Groundsel is an erect, rather succulent annual, with irregularly lobed leaves and groups of small nodding flower heads. It produces yellow flowers from July to February. Reproduction is by seed and the seeds are dispersed by wind, birds, clothing, fur, contaminated grain and cereal. Seeds are highly viable and can germinate throughout the year. Germination occurs under alternating light and dark conditions. Most seeds can germinate immediately and seedlings can emerge within a few days of seed shed. Seed produced in spring is generally more dormant than seed produced in summer or autumn. Seeds buried for 6 months in soil under natural conditions germinate readily on exposure to light. It can complete its life-cycle in 5-6 weeks but this may take longer on nutrient-rich soils. The seedbank may persist for up to 5 years. All parts of the plant are poisonous to mammals, including humans.
Impact on Bushland
Not available.
Location
Found in various places in the South-West Province usually on sandy soils in summer irrigated vegetable crops on the Swan Coastal Plain, cultivated or disturbed grounds. Found from Perth to the Fitzgerald National Park.
Priority for removal
Low: causes minimal disruption to ecological processes or loss of biodiversity.
Management (hand)
Hand remove small/isolated populations. Optimal time to manually remove is June to September. A rust pathogen is currently being evaluated as a biocontrol agent in Europe. Hand weeding can be done occasionally in any month.
Management (herbicide)
Apply Lontrel® at 10 ml/10 L + wetting agent before stem elongation in late spring. It is resistant to some Group 5, 6 and 7 herbicides (including triazines, uracils and nitriles). Read the manufacturers' labels and material safety data sheets before using herbicides. Optimal months to spray are September and October and occasionally in November.
Flowering month/s
January, February, July, August, September, October, November
Flower colour/s
Yellow
Information source
https://florabase.dpaw.wa.gov.au/browse/profile/8220
Additional information
https://florabase.dpaw.wa.gov.au/weeds/swanweeds/
Hussey, B.M.J., Keighery, G.J., Dodd, J., Lloyd, S.G. and Cousens, R.D. (2007) Western weeds. A guide to the weeds of Western Australia, Second Edition, The Weeds Society of Western Australia, Victoria Park, Western Australia.
Common Groundsel images