False Onion Weed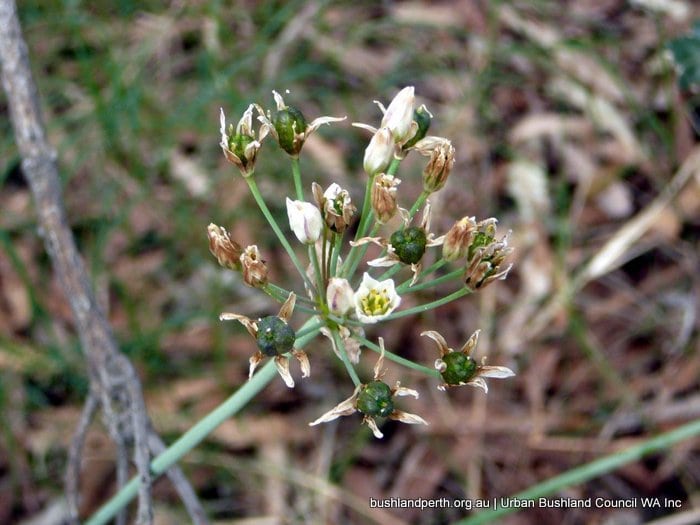 Common name
False Onion Weed
Scientific Name
Nothoscordum gracile
Type of plant
Bulbs or Corms
About this weed
This invasive bulb is another garden escapee from South America. The plant reproduces from the numerous bulbils produced in spring and early summer or by seed or bulb. Generally seeds are distributed by wind and water. In late autumn the plant produces long strap like leaves before producing a cluster of white flowers. The plant dies down after flowering.
Description
This weedy bulb came from South America and grows between 0.15-0.6 m high. Numerous scented, white flowers are produced on a long stem but it does not have an 'oniony' smell. The strap-like leaves tend to die down before flowering. The plant reproduces from bulbils, bulb offsets and seed. Once germinated the plant does not flower until it is 3 years old. Like many bulbs it generally survives fire.
Impact on Bushland
If left may spread over bushland.
Location
Found in scattered areas of the Eremaean Province and South-West Province on sand and sandy clay.
Priority for removal
Low: causes minimal disruption to ecological processes or loss of biodiversity.
Management (hand)
Like most bulbs hand weeding is the most effective means of control but extra care must be taken as the bulbils easily detach from the main plant when disturbed.
Management (herbicide)
Not available.
Flowering month/s
October, November
Flower colour/s
White
Information source
https://florabase.dpaw.wa.gov.au/browse/profile/1381
Additional information
https://florabase.dpaw.wa.gov.au/weeds/swanweeds/
Hussey, B.M.J., Keighery, G.J., Dodd, J., Lloyd, S.G. and Cousens, R.D. (2007) Western weeds. A guide to the weeds of Western Australia, Second Edition, The Weeds Society of Western Australia, Victoria Park, Western Australia.
False Onion Weed images