Perennial Pea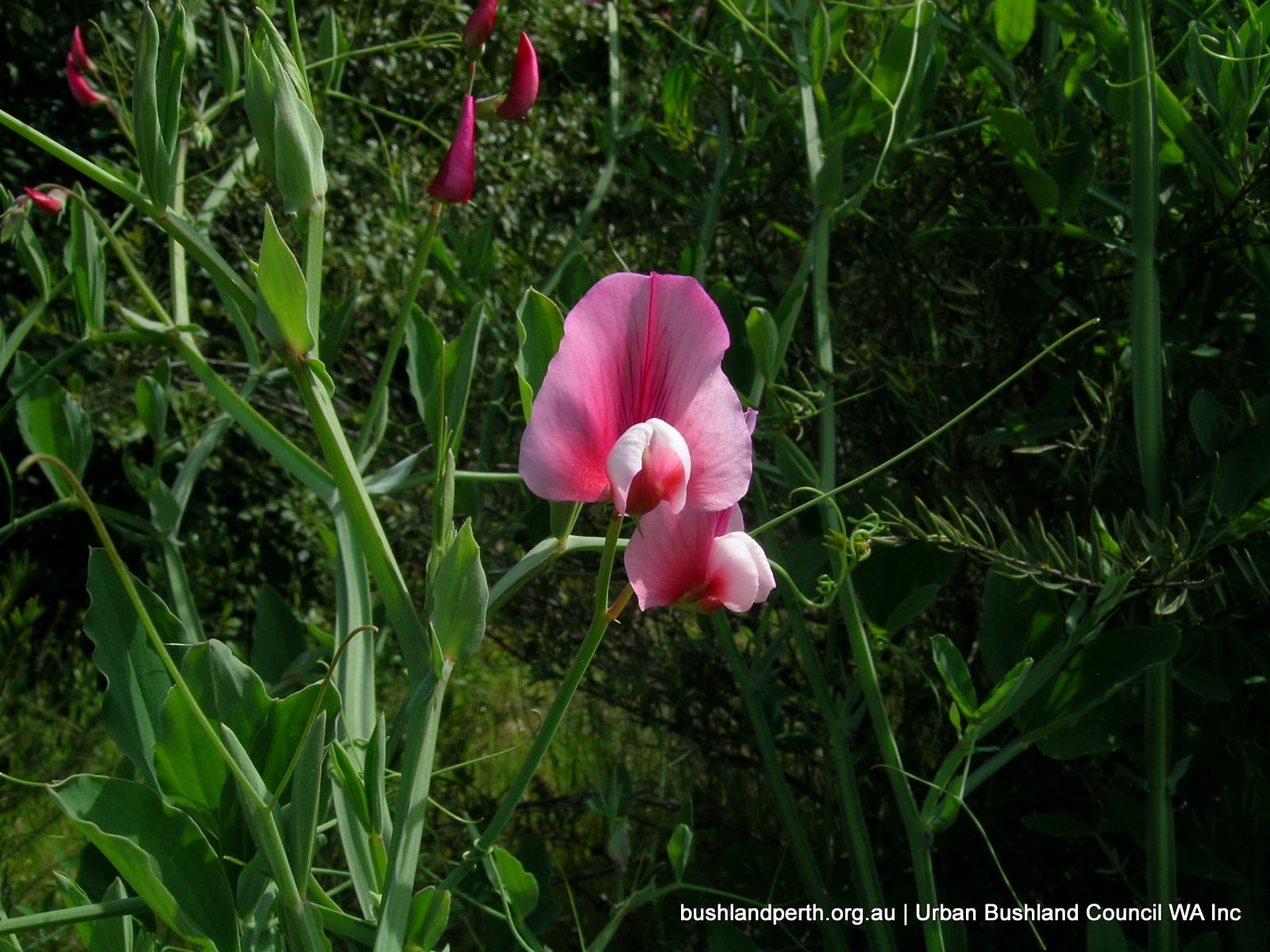 Common name
Perennial Pea
Scientific Name
Lathyrus latifolius
Type of plant
Legumes And Peas (Family Fabaceae)
About this weed
This weed is another rampant, perennial climber with pretty pink, purple or white pea shaped flowers, usually in racemes. It is native to Europe but was probably introduced as a garden plant or as a seed contaminant.
Description
It is a perennial climber with purple, pink or white flowers from November through to January. It can reach 6 feet or more by means of its twining tendrils, but in open areas sprawls. Reproduction can be by seed or by vegetative reproduction from its taproot and rhizomes. It is frost-hardy and long-lived. The foliage becomes rather ragged and yellowish by the end of summer.
Impact on Bushland
If left will spread over bushland and impact on ecological processes and plant communities.
Location
Perennial Pea prefers partial or full sun. It is seen on roadsides or in damp depressions across a few areas of the South-West Province, usually on sandy or lateritic soils.
Priority for removal
Medium: best to remove any climbers as they may become a threat to conservation values.
Management (hand)
Not available.
Management (herbicide)
Not available.
Flowering month/s
January, November, December
Flower colour/s
Pink, Purple, White
Information source
https://florabase.dpaw.wa.gov.au/browse/profile/17040
Additional information
https://florabase.dpaw.wa.gov.au/weeds/swanweeds/
https://en.wikipedia.org/wiki/Lathyrus_latifolius
Hussey, B.M.J., Keighery, G.J., Dodd, J., Lloyd, S.G. and Cousens, R.D. (2007) Western weeds. A guide to the weeds of Western Australia, Second Edition, The Weeds Society of Western Australia, Victoria Park, Western Australia.
Perennial Pea images