Rose Pelargonium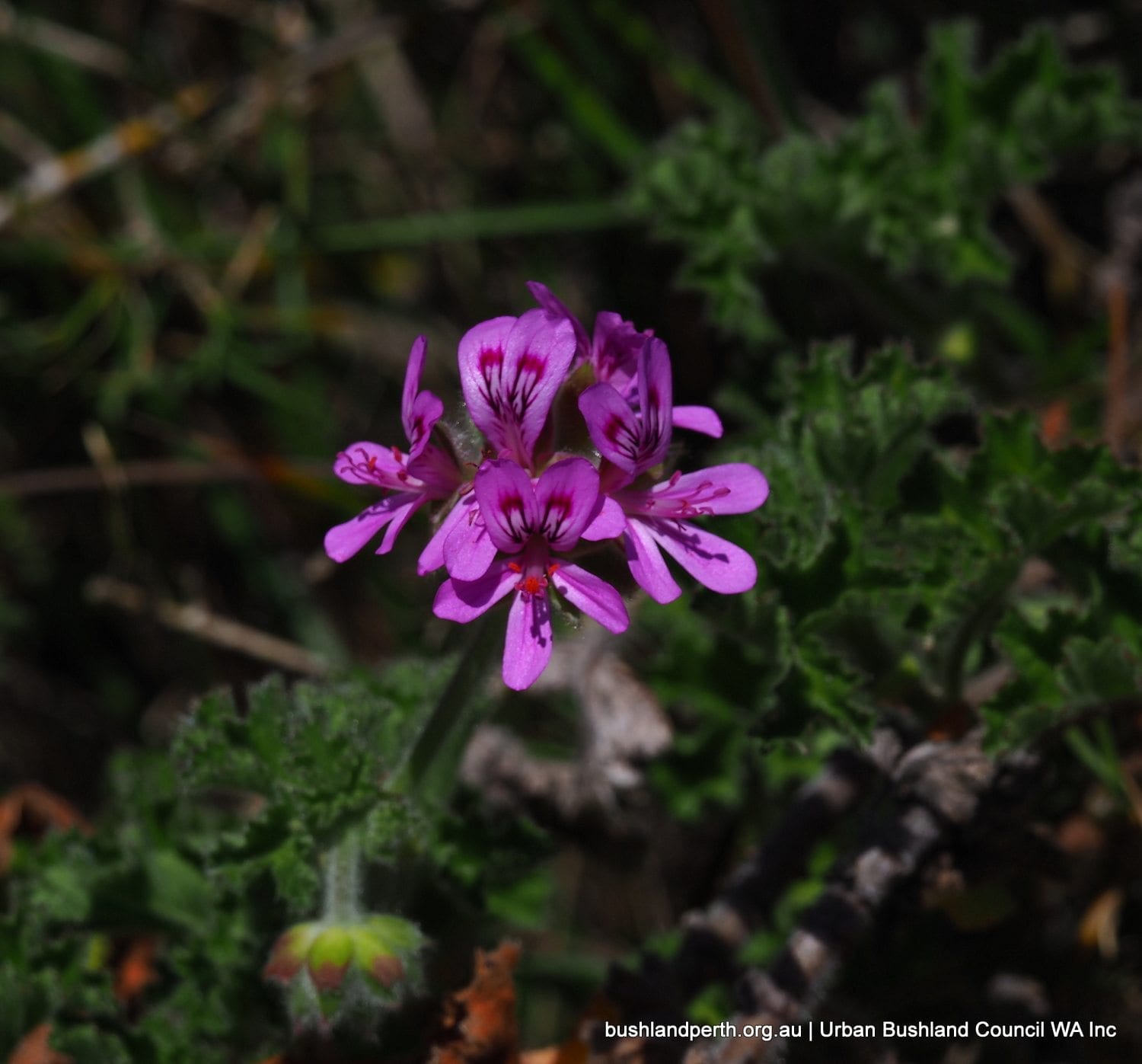 Common name
Rose Pelargonium
Scientific Name
Pelargonium capitatum
Type of plant
Uncategorised
About this weed
Rose Pelargonium is a shrubby, softly hairy perennial often found in urban coastal heathland and Banksia and Tuart woodland on the Swan Coastal Plain. Originally from South Africa and introduced as an ornamental, gene source and for medicinal purposes. Care should be taken not to mistake the weed for one of  the 4 native Pelargoniums as they can look similar – see Florabase for more details:(https://florabase.dpaw.wa.gov.au/search/quick?q=Pelargonium)
Description
This is a straggling, shrubby perennial growing to 1 m high. It has soft hairy leaves and produces compact heads of pink flowers during spring and summer. The seed is elliptically shaped, with a feathered, tail-like coiled spiral structure attached. This tail allows the seed to drill and secure itself in soil if twisted by the wind or affected by movement of animals. Seed has high levels of physical dormancy, which can be broken by high and/or low winter temperatures.
Impact on Bushland
This Pelargonium is a major weed of Banksia woodland and coastal heathland. Invasion in Banksia woodland can be facilitated by disturbance including frequent fire. Frequent and/or intense fires create conditions suitable for greater invasion, including increased soil phosphorous levels.
Location
Usually found on coastal sand dunes, limestone and sand in Banksia and Tuart woodlands between Cervantes and Esperance.
Priority for removal
High: Is a major weed of Banksia and Tuart woodlands and coastal heathland.
Management (hand)
Hand pull isolated plants taking care to remove the entire stem as it can reshoot from below ground level. Optimum manual removal June to November.
Management (herbicide)
Spot spray metsulfuron methyl 5 g/ha + Pulse. Easily controlled after fire. Read the manufacturers' labels and material safety data sheets before using herbicides. Optimum months for herbicide removal are June to October.
Flowering month/s
January, February, August, September, October, November, December
Flower colour/s
Pink, Purple, White
Information source
https://florabase.dpaw.wa.gov.au/browse/profile/4343
Additional information
https://florabase.dpaw.wa.gov.au/weeds/swanweeds/
Hussey, B.M.J., Keighery, G.J., Dodd, J., Lloyd, S.G. and Cousens, R.D. (2007) Western weeds. A guide to the weeds of Western Australia, Second Edition, The Weeds Society of Western Australia, Victoria Park, Western Australia.
Rose Pelargonium images