Tree Tobacco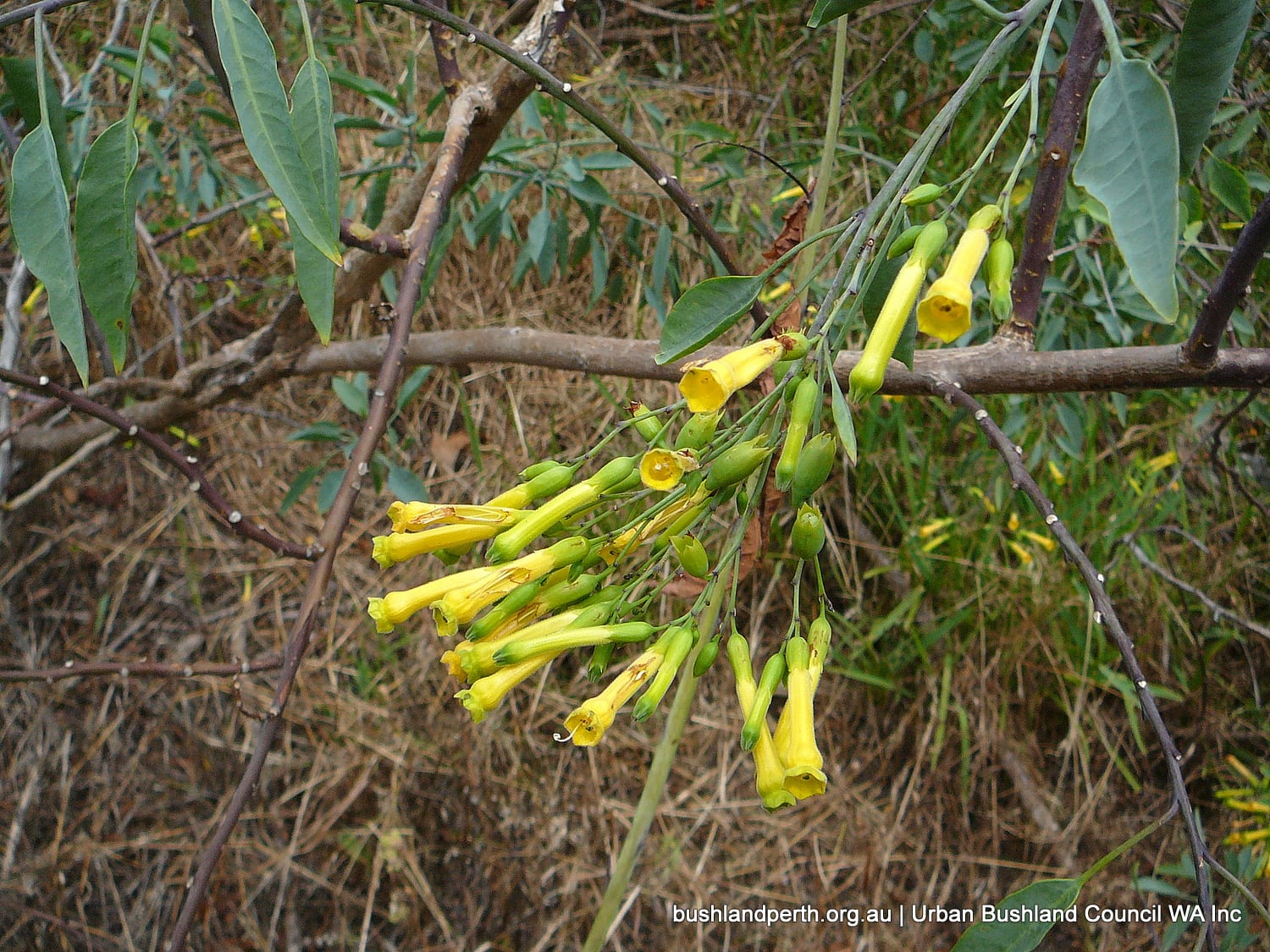 Common name
Tree Tobacco
Scientific Name
Nicotiana glauca
Type of plant
Tree And Shrub Weeds
About this weed
This plant was originally introduced as a garden plant from Argentina. It can grow to 6 metres high and has spindly branches and  is easily identified by its yellow tubular flowers and bluish-green foliage. It does hybridise with native Nicotiana species.
Description
The Tree Tobacco garden escapee is an erect, spindly tree growing 1 to 6 m high. It produces occasional yellow tubular flowers in most months except in winter. Reproduction is by seed and it is dispersed by water and animals. When germinated the seeds take about a year before they flower. There will be prolific germination after flooding events and under drought conditions will die back but will resprout as soon as water becomes available. The plant is toxic to livestock and humans. The seedbank persists for possibly up to 5 years. The plant is generally killed by fire.
Impact on Bushland
If left it may spread over bushland and impact on ecological processes and plant communities.
Location
This weed is sparsely spread through the South-West Province and usually found on roadsides and wastelands in sand, clay or clay loam soils.
Priority for removal
Low: causes minimal disruption to ecological processes or loss of biodiversity.
Management (hand)
Manually remove small infestations, ensuring removal of all root material.
Management (herbicide)
On the cut stump apply an application of 50% Glyphosate or apply 250 ml Access® in 15 L of diesel to basal 50 cm of stem (basal bark). Read the manufacturers' labels and material safety data sheets before using herbicides. Optimal herbicide treatment should be done in March to May or September to November.
Flowering month/s
January, February, September, October, November, December, Opportunistic
Flower colour/s
Yellow
Information source
https://florabase.dpaw.wa.gov.au/browse/profile/6974
Additional information
https://florabase.dpaw.wa.gov.au/weeds/swanweeds/
Hussey, B.M.J., Keighery, G.J., Dodd, J., Lloyd, S.G. and Cousens, R.D. (2007) Western weeds. A guide to the weeds of Western Australia, Second Edition, The Weeds Society of Western Australia, Victoria Park, Western Australia.
Tree Tobacco images