Ursinia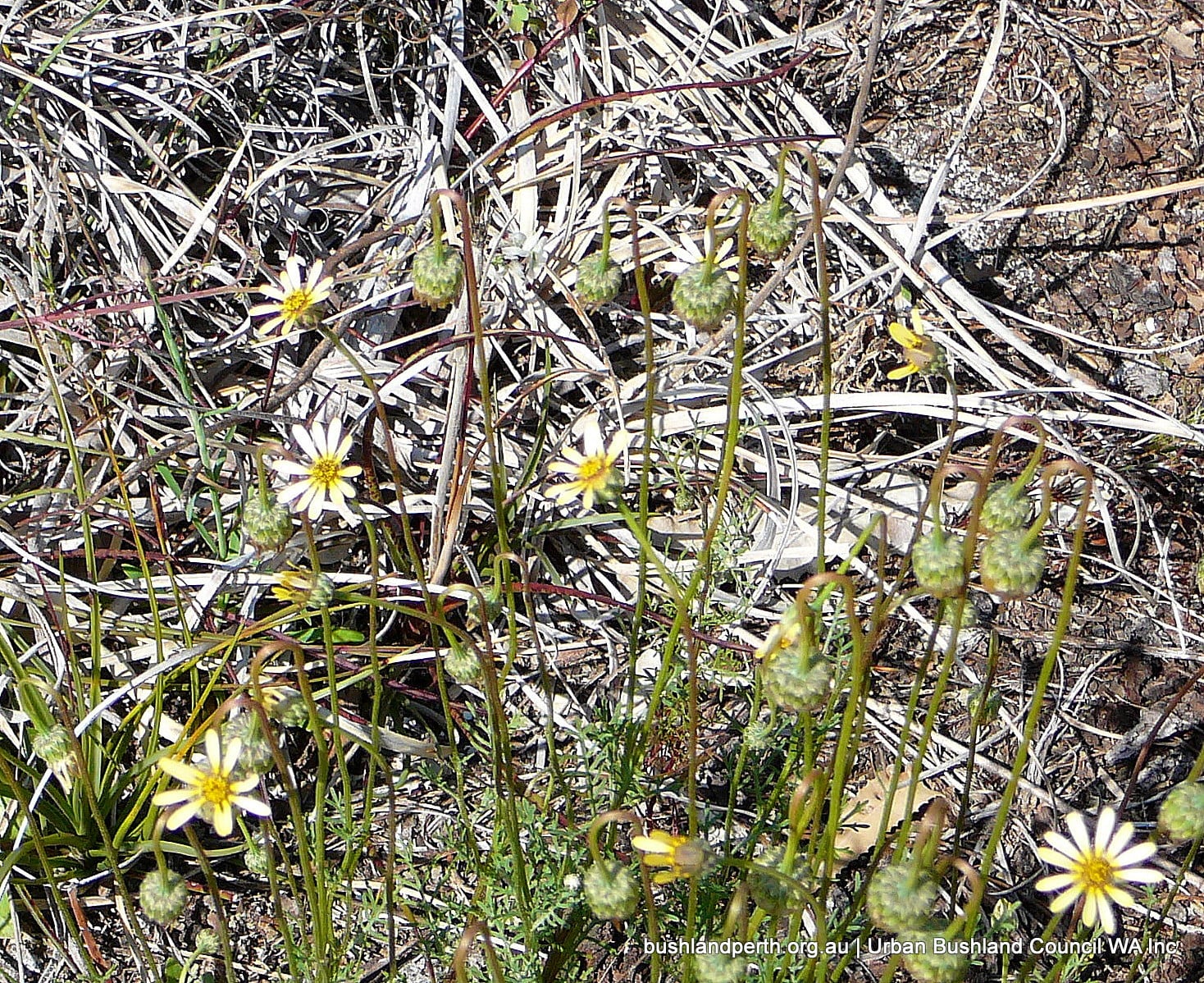 Common name
Ursinia
Scientific Name
Ursinia anthemoides 
Type of plant
Daisies & Thistles (Family Asteraceae)
About this weed
Ursinia is a native of Namibia and South Africa and was introduced as a garden ornamental plant. From small seedlings they are easily identified by their fine feathery leaves.
Description
This erect annual has pale yellow to cream flowers with some brown touches. In winter it grows to about 0.5 m high. Solitary flowers are produced on long stalks in spring and they are pollinated by bees, wasps, butterflies and spiders. The seeds are then dispersed by wind. Fruits have both pappus and hairs, so are easily dispersed by wind. When in fruit the plant becomes very conspicuous as the five petal scales often look like white flowers. They generally have faster, less variable and higher germination rates compared with native annual species, giving it a competitive advantage.
Impact on Bushland
Ursinia can be abundant immediately after an autumn fire in Banksia woodland, and then seedling development declines over time. It responds more positively to higher nutrient additions than native annual Asteraceae species, thus may have a competitive advantage in nutrient enhanced situations, particularly following fire.
Location
Found throughout the South-West Province usually on roadsides and in waste places. It is more frequent after burns in bushland.
Priority for removal
Unknown:
Management (hand)
Not available.
Management (herbicide)
Not available.
Flowering month/s
July, August, September, October, November, December
Flower colour/s
Yellow, Orange, White, Cream
Information source
https://florabase.dpaw.wa.gov.au/browse/profile/8255
Additional information
https://florabase.dpaw.wa.gov.au/weeds/swanweeds/
Hussey, B.M.J., Keighery, G.J., Dodd, J., Lloyd, S.G. and Cousens, R.D. (2007) Western weeds. A guide to the weeds of Western Australia, Second Edition, The Weeds Society of Western Australia, Victoria Park, Western Australia.
Ursinia images