Celebrating 30 Years
Sunday 21 May from 15:00 to 17:00
Free

Thank you for accepting our invitation to attend. Please scroll to the bottom to RSVP. 
A Voice for the Bush since 1993
Join us to celebrate and thank our 90 volunteer groups, supporters and advisors for keeping the bush in the city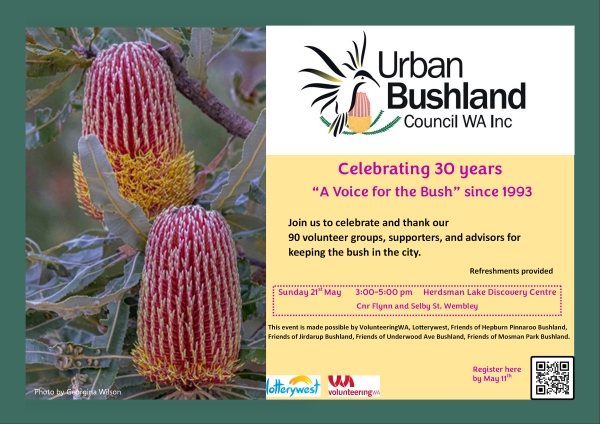 This event is made possible by VolunteeringWA and funded by Lotterywest,  and collaborating with Friends of Hepburn and Pinaroo Bushland, Friends of Jirdarup Bushland, Friends of Mosman Park Bushland and Friends of Underwood Avenue Bushland
About UBC
UBC is the peak community organisation for urban bushland recognition and protection and is an association of  90 community groups with a common interest in conservation and management of urban bushland. We are an incorporated, voluntary, non-government organisation and play a crucial role in advocating with Government of all levels for bushland protection.
Despite numerous statements and commitments by Governments over many years, urban bushland continues to degrade and disappear at an alarming rate. Nevertheless, collectively we have achieved many great wins in holding back the tide of unacceptable developments but the need to be vigilant and active is relentless.
Join Us
We look forward to your company on Sunday 21st May. Scroll down to RSVP.
Share this