Biodiversity and soil health
Soil Microbes and Bushland Health
Come to our next talk on Thursday 19th November, from 6pm at City West Lotteries House 2 Delhi Street, West Perth. You will be able to hear Dr Anna Hopkins talk about soil microbes and bushland health.
Anna's talk follows on from David Knowles presentation last month about the devastating effect of fires on insects. We have asked Anna to talk about threats to soil health; the effect weeds have on soil microbe biodiversity and of fire on soil health.
Soil microbes play an essential role in bushland restoration success. Soils are a complex and highly varied ecosystem and contain an enormous amount of our global biodiversity. This presentation will discuss soils as a habitat and the range of organisms present in the soil. It will also illustrate how our knowledge of soil biology can be used to make restoration efforts more resilient and sustainable.
Join us from 6 pm for refreshments; we will start at 6:30 pm.
If you cannot make it to West Perth, you might like to join us on Zoom. Just email UBC at ubc@bushlandperth.org.au and ask us to send you the link.
Spring Edition of the Urban Bush Telegraph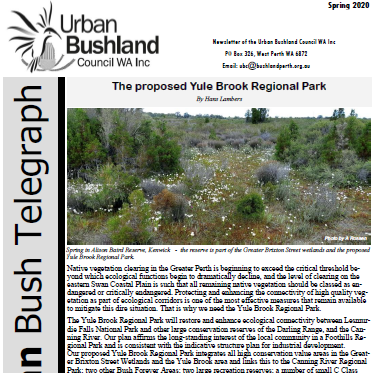 The Spring edition of the Urban Bush Telegraph is available from our website.
Read about the proposal to create the Yule Brook Regional Park that would integrate all high conservation value areas in the Greater Brixton Street Wetlands and the Yule Brook area and links this to the Canning River Regional Park; two other Bush Forever Areas; two large recreation reserves; a number of small C Class Reserves; and the Lesmurdie Falls National Park. This would protect the rich and rare flora of the Greater Brixton Street Wetlands, which comprise the greatest biodiversity of the entire Swan Coastal Plain.
Also see our article on What we can all do to help save our local biodiversity  We list many easily achievable activities that can help make a difference to our local environment and to our own well-being.
Then check out the 'Save Perth Hills' campaign for better planning for the proposed North Stoneville development in the Shire of Mundaring.