Celebrating Tuart Woodlands
Around Perth on the Swan Coastal Plain there are only seven common trees. Three are eucalypts, (Tuart, Jarrah and Marri); three are Banksias (B. attenuata, B. grandis and B. menziesii) and  the other one is Allocasuarina fraseriana. (Greg Keighery)
The Majestic Tuart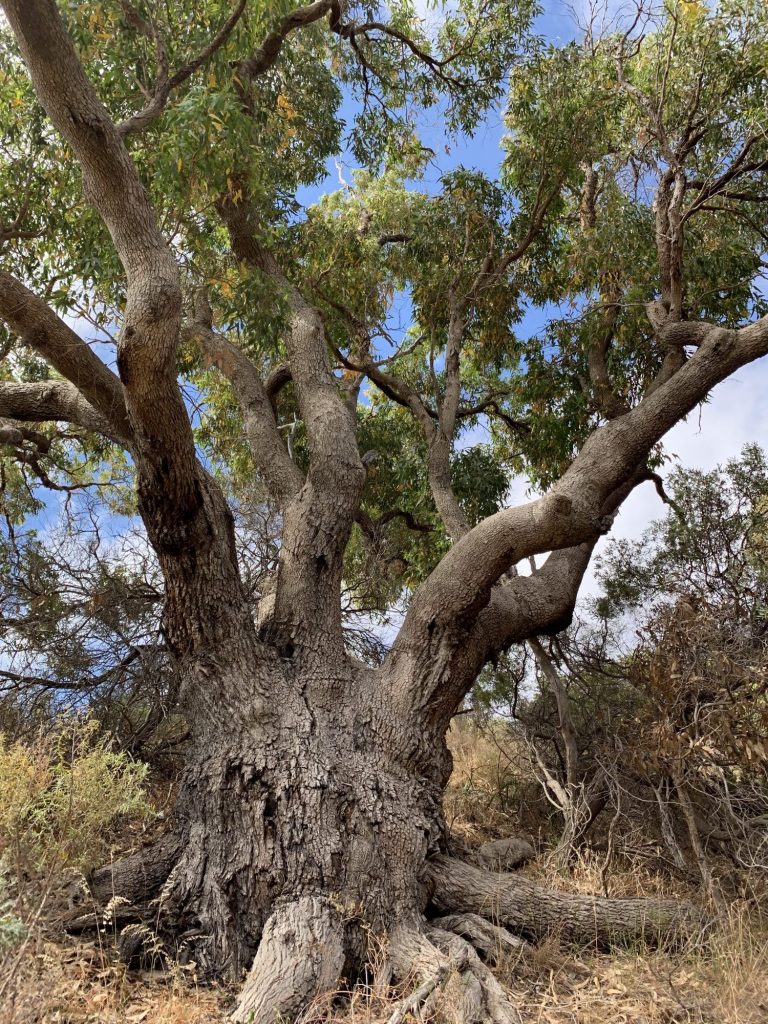 Tuart, Eucalyptus gomphocephala, is the Noongar name for one of the Earth's rarest trees. These stately trees grow to 40 metres. They are the largest tree on the Swan Coastal Plain. We find them growing on the coastal dunes in a 400 km band on well drained soils from Jurien Bay to the Sabina River, near Busselton.
Noongar people regarded old Tuart trees as almost relatives.  They typically camped beside large Tuart trees in areas such as Shenton Park, City Beach and Swanbourne.
'Referring to these trees, Elders stated; 'These old people, they were kind to us, they gave us shelter, they gave a home to the birds and many other animals and insects too. It makes me very angry when they cut these old fellas down. They took so long to grow.''(MacIntyre and Dobson Report)
Close to the coast, Tuart enhances its ability to survive by developing thick foliage 'often in a continuous broad canopy.' (Robert Powell, Leaf and Branch)
It is estimated that before Europeans, Tuart Forest covered 111,600 hectares  (DBCA). However Tuarts have been extensively felled, as the timber is hard, durable and termite resistant. In the late nineteenth century, 'planks 20 – 40 feet long and 2 feet wide were exported to England'. (Irene Cunningham, 'The Trees that were Nature's Gift').
Protecting Tuart Woodlands and Forests
In 2016, the Humane Society International (Australia) nominated the 'Tuart (Eucalyptus gomphocephala) woodlands and forests of the Swan Coastal Plain' ecological community of Western Australia for listing as threatened. The independent Threatened Species Scientific Committee made the assessment, and you can download their conservation-advice and find the indicative  map here.
The Minister for the Environment, the Hon Sussan Ley MP, has now made the decision to protect the Tuart. She recently amended the list of threatened species and ecological communities under the EPBC Act 1999 to include Tuart (Eucalyptus gomphocephala) Woodlands and Forests of the Swan Coastal Plain in WA as Critically Endangered.
The next step is action! The Conservation Advice referred to previously identifies the priority research and conservation actions.  Consequently, implementation is critical to their recovery.
Enjoy our Tuart woodlands in Bold Park, Woodman Point, or Yanchep National Park.