Woodman Point Regional Park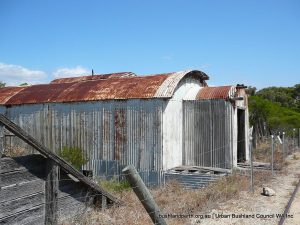 Woodman Point Regional Park is one of the most fascinating places in the Perth metro, combining high order conservation values with equally high order heritage values.
It is located on the coast 9 kilometres south of Fremantle and is mix of very scenic seascapes and woodlands in an area of 252 hectares. It is a Bush Forever site. The Park consists of a relatively narrow beach-ridge plain that extends to a peninsula formed as a result of sediment accumulation. 
Woodman Point, and its associated offshore tombola, separates Owen Anchorage from Jervoise Bay and also marks the northern extent of Cockburn Sound.
The Park contains a wide variety of ecosystems including shrubland, heath and scrub, and Quindalup woodlands.  This includes tracts of undisturbed coastal vegetation, including tuart (Eucalyptus gomphocephala) , Rottnest cypress (Callitris preissii) and Rottnest tea tree (Melaleuca lanceolata) (identified as a threatened ecological community). The Woodman Point vegetation communities are also permanently listed on the Register of the National Estate.  Importantly, some parts of Woodman Point have not suffered fire disturbance for over 100 years and are therefore benchmark examples of the floristic composition before European settlement in the early 1800s.
The coastal foreshore of Woodman Point Regional Park is habitat for a diverse bird population, some of which are trans-equatorial migratory birds. The coastal habitat also provides an important breeding ground for local shore-birds. The tuart woodland is a refuge for a range of bush birds.
Woodman Point Regional Park is accessed from Cockburn Road. Start your visit to Woodman Point from either the northern end at John Graham Recreation Reserve  or from the southern end via Woodman Point View Drive. See p39 of the Management Plan (link below) for details.
Birds at Woodman Point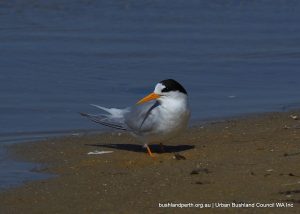 The Park provides a range of habitats that support local and trans-equatorial migratory birds plus many bushbird species.  The coastal foreshore at the western extremity of the headland is an important breeding ground for local species, as well as a roosting and feeding area for local and transequatorial migratory species.
A total of 93 species has been recorded at Woodman Point. Of these, 36 species are shore-birds and other waterbirds.
Shore-birds and other waterbirds recorded at the Park include the Caspian tern (Hydroprogne caspia); crested tern (Sterna bergii); fairy tern (S nereis); bridled tern (S anaethetus); pied cormorant (Phalacrocarax varius); little pied cormorant (P melanoleucos); darter (Anhinga sp.); pied oystercatcher (Haematopus longirostris); sooty oystercatcher (H fuliginosus); grey plover (Pluvialis squatarola); rednecked stint (Calidris ruficollis); sanderling (C alba); ruddy turnstone (Arenaria interpres); and Australian pelican (Pelecanus conspicillatus).
Bush-birds present in the Park include the blue wren; weebill (Smicrornis brevirostris); inland thornbill (Acanthiza apicalis); white-browed scrub wren (Sericornis frontalis); and splendid fairy wren (Malurus splendens). The population of golden whistlers (Pachycephala pectoralis) is very significant owing to the scarcity of the species within bushland areas in Perth. The tall Tuart trees (Eucalyptus gomphocephala) present at the Park also provide nesting sites for brown goshawks (Accipiter fasciatus) which breed infrequently on the Swan Coastal Plain.
A number of migratory birds listed under the Japan- Australia Migratory Birds Agreement (JAMBA), the China-Australia Migratory Birds Agreement (CAMBA), and the Republic of Korea Migratory Birds Agreement (ROKAMBA) have been recorded at the Park.
Landform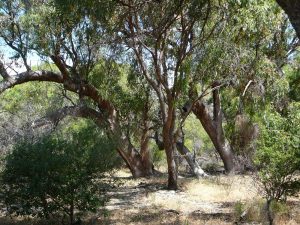 The Quindalup Dune System is the main geomorphic feature of the Park.
The landform of the Park is characterised by gently undulating coastal dunes and swales. The beach ridge formation that constitutes Woodman Point was formed during the Holocene period (over the last 7,000 years). Sand was preferentially deposited at Woodman Point where the shelter of off-shore islands and reefs reduced wave energy. Over time the triangular piece of land, called a tombola or beach ridge plain, was transformed into a promontory.
Cultural Heritage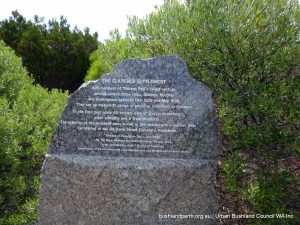 There was a large Aboriginal presence in the Cockburn district during the early 1800s, prior to European settlement. Artefacts and rock engravings found in the district reflect the use of the land by Aboriginal (Nyoongar) people.
Woodman Point is also historically important for European settlement, and includes the former quarantine station, crematorium and gravesites, railway link to Fremantle, explosives magazines and jetty, as well as the naval shed and groyne.
The former munitions magazines and the former quarantine station (Woodman Point Recreation Camp) are permanently listed on the State Register of Heritage Places.
A granite plinth commemorates the historic failed Clarence Settlement venture of 1829, the year that Western Australia received its first British settlers. In that first year, 40 of the settlers died of scurvy, dysentry and other illnesses, and six from childbirth.
Recreational Values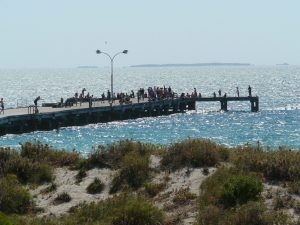 Woodman Point Regional Park is a very popular beach-side area that provides boating access to Cockburn Sound and Owen Anchorage. Picnic and barbecue facilities are extensive.
Source of Information
The material presented here is sourced from the Woodman Point Regional Park Management Plan 2010.
Bush Forever Site Map (Download).  Bush Forever Description (Download).  Bush Forever Species List  (Download).
Woodman Point Regional Park Gallery
Woodman Point Regional Park Location