Baigup Wetlands on the Swan River Maylands – Guided Walk
Sunday 15 September from 10:00 to 11:30
Free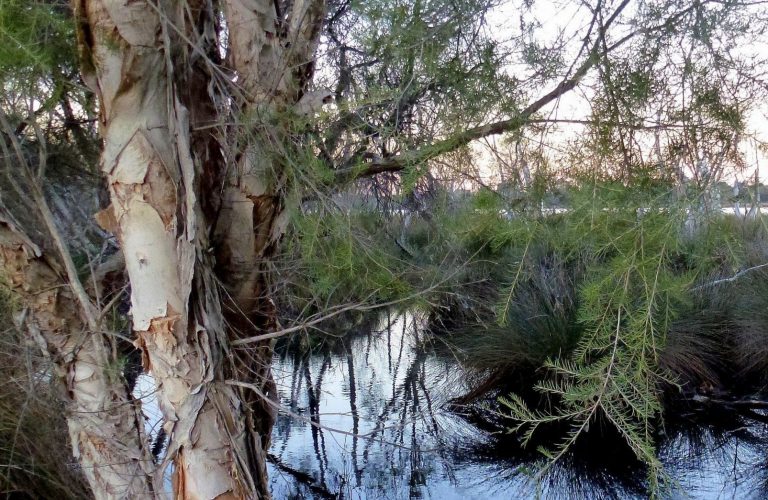 This site visit is a chance to meet people from other community environment groups around the metro area while exploring a beautiful Bush Forever site on the Swan River that deserves to be better known. Baigup Wetlands is a 16.4 ha reserve that attracts many different kinds of birds all year round.
Places are limited – please book. Details at the bottom of the page.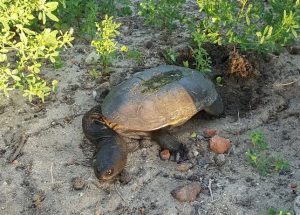 Two freshwater lakes are home to our South-western Snake-necked (aka 'oblong') Turtles which breed in the surrounding vegetation (Geoff McDonald image).
Sixteen species of waterbirds use the lakes for breeding. There is just a chance you may see gorgeous Australian Shelduck ducklings with their unbelievably protective parents or Buff-banded Rail chicks looking like fluffy black pompoms on their long spindly legs. These are two species that have been observed with young in September in previous years.
Challenges at Baigup include Acid Sulphate scalds, damage to the riverbank by speeding boats, fox and cat predation of wildlife, death of native vegetation due to salinity in places, and a daunting history of massive weed infestation. Strenuous efforts by Baigup Wetland Interest Group and the reserve managers (City of Bayswater and Department of Planning, Lands and Heritage) have got weeds under control in recent years but Pampas Grass, Blackberry, Arum Lily, Morning Glory and Dolichos Vine (that smother and kill native trees), plus pretty well every annual weed, especially Blackberry Nightshade, you can think of, still demand constant vigilance.
But for every challenge there are also victories. Extensive planting and water management along with ongoing weed control is providing habitat for an increasing number of birds, animals and reptiles. Perhaps Quenda will be reintroduced eventually? That is one of the goals of Baigup Wetland Interest Group and the City of Bayswater.
How to get there:
Meet in Hinds Reserve car park next to the Paddlesports (aka Rowing Club) facilities at the end of Milne Street Bayswater. Members of Baigup Wetland Interest Group will meet you there and take you into Baigup Wetlands itself. Wear sun protection and sturdy footwear and bring insect repellent or wear long sleeves and pants in case mosquitoes are around.
Share this