Lesmurdie Falls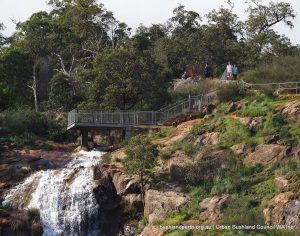 Lesmurdie Falls in winter and spring is one of Perth's most popular leisure destinations.
Stunning views over the Swan Coastal Plain are available from lookout platforms which are a short walk from the picnic area on Falls Road.
The main picnic area (above the head of the Falls)  contains a large car park, three large picnic tables with shade, toilet facilities and rubbish bins.  Disabled access is available to toilets and picnic tables. The lower level carpark has basic picnic facilities only.
The area is especially popular in Spring when the falls are flowing and wildflowers are on display.
Several walk trails are available from here of varying degrees of difficulty, Including: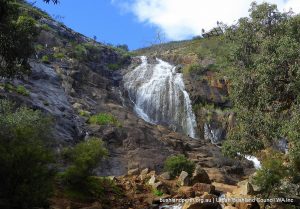 The Falls Trail. 640m return, Class 2, allow 30 min.
The Shoulder Trail. 1.5km return, Class 3, allow 1hr.
The Cascade Trail. 300m return, Class 3, allow 30 min.
The Foot of the Falls Trail. 2km return, Class 3, allow 1hr.
The Valley Loop Trail. 3km return, Class 3, allow 2hrs.
Please take your own drinking water as there is none available at this site. (Information above is adapted from the DPaW website).
Resources
Trails WA has extensive information on Lesmurdie Falls walks.
Visit the Life of Py page.
Visit the Weekend Notes page.
Access
The main access to the upper Falls is via Falls Road as shown on the map. However the bottom of the Falls can be easily accessed from Palm Terrace, at the end of which lies the lower level picnic area. Refer to main Park signage image.
Lesmurdie Falls Gallery