Wireless Hill Park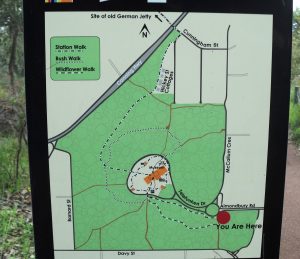 Wireless Hill Park in Booragoon (Bush Forever site 336) is a popular picnic spot in the City of Melville. The park comprises 40 hectares and was previously the site of a large radio mast that was operated by the Overseas Telecommunications Commission for much of the 20th century. The site contains some excellent jarrah and marri woodland with an understorey of banksia and casuarina. The ground flora is diverse, and it provides a brilliant display of wildflowers in the Spring.
The site was once an important lookout for the Whadjuk Noongar and was known as Lookout Hill.
The City of Melville has developed picnic facilities and a Wireless Hill Museum in the centre of the park using the heritage-listed buildings of the former radio station. There is also a war memorial that is used for commemorative services.
Wireless Hill Park contains three walk trails, ranging in length from 700 metres to 3 km. The Wildflower Walk Trail (700 metres) is very popular with both locals and tourists during the wildflower season from September to November. It provides spectacular displays of local wildflowers and contains extensive interpretive signage.  Yagan's Genunny is a 1.8 km bushwalk around the summit of the hill with interpretive signage that explains the Whadjuk Noongar heritage values of the site. The Station Walk is a 3km trail that links sites of significance in Wireless Hill's history as a telecommunications station. It begins at the museum and passes through the bushland and past the workers cottages before terminating at the site of the old jetty by the Swan River where the telecommunications equipment was unloaded from barges in the early 20th century.
The picnic area is grassed and shady and contains barbecue facilities, toilets, picnic tables and shelters, a children's playground, an observation platform or lookout, and the Wireless Hill Museum. There is adequate parking for 100 cars.
Wireless Hill is a great place to view the local wildflowers and to learn about the indigenous and industrial heritage of this site.
Resources
A map of the site is available from the web site and the Friends Group web site has some nice photographs of the wildflowers, birds and reptiles that you may see in the park. The Wikipedia web site provides a detailed description of the heritage values of this site.
Web site: https://www.melvillecity.com.au/things-to-do/find-venues-parks-and-reserves/wireless-hill-park
Friends of Wireless Hill http://www.friendsofwirelesshill.org/
Wikipedia https://en.wikipedia.org/wiki/Wireless_Hill_Park
Location: 4 Almondbury Road, Booragoon 6164
Wireless Hill Park Gallery
Wireless Hill Park Location