Brixton Street Wetland
A Botanical Jewel: The Greater Brixton Street Wetlands, Kenwick is the most floristically diverse Bush Forever  site on the Swan Coastal Plain and has many more species than Kings Park.  It is located on the very flat, waterlogged Pinjarra Plain at the base of the Darling Range in an area that has largely been cleared for agriculture or housing.
The wetlands are less than 20 km south of  the Perth CBD, in an area between Roe Highway, Albany Highway and Kenwick Road in Kenwick.
While the wetlands only cover 19 hectares, they contain many different vegetated wetlands with fringing vegetation in or near to the original condition, support an outstanding flora diversity with at least 518 native taxa and comprising a third of the taxa recorded on the Swan Coastal Plain.  This includes many plant communities that are rare or endangered and in need of species protection.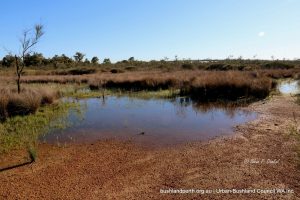 The wetlands have been entered into the Interim List of the Register of the National Estate and are subject to protection under Commonwealth legislation.
The Wetlands support over 80 special wildflowers that are either rare and endangered; or have only recently been discovered by botanists; or are uncommon on the Swan Coastal Plain.
They are also habitat for the Quenda (Southern Brown Bandicoot), waterbirds and many native terrestrial and aquatic animals as well as for endangered Carnaby's Black Cocktoos.
Access to Brixton Street Wetland
Brixton Street Wetlands are accessed via Brixton Street and Alton Street, with the main entry and site lookout off Alton Street. The Wetlands are always worth a visit, with the best times being early morning in September or October when many species of plants are flowering and bird life is prolific; especially early in the morning.
Resources
Bush Forever Site Map                           Bush Forever Species List                Bush Forever Description
Spring flowering over the seasons at Brixton Street Wetlands
Source of Information
The Friends of Brixton Street Wetlands look after this Wonderful Place.
Brixton Street Wetland Gallery
Brixton Street Wetland Location