Mundijong Road and adjacent Reserves
Mundijong Road Reserve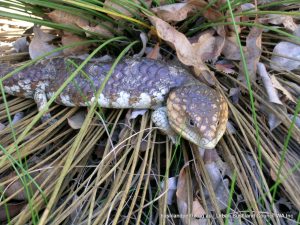 Mundijong Road Reserve is unique. Comprising 36 hectares only, it is nevertheless twelve kilometres long! This highly unusual long, narrow composition has resulted from its history as being part of the original railway alignment between Jarrahdale and Rockingham which served the Jarrahdale timber cutting and milling operations until the 1940s.
The line, built in 1872, was decommissioned in the 1950s and the rails and sleepers removed, this part of the alignment being re-allocated to the conservation estate and being allowed to revegetate.
Extending from Duckpond Reserve, a small triangular bush remnant at its western end, to Watkins Road Nature Reserve to the east, the Reserve provides an extensive and rare vegetation transect of the Perth Coastal Plain lying over the Bassendean Sands soil formation.
Unfortunately, being so narrow, and lying in a sea of agricultural properties, the Reserve is significantly impacted by weed invasion at many points. Nevertheless, in many parts of its length the original vegetation is substantially intact and, as such, provides a key reference to the original vegetation which lay across the Sands, in an area where now so little original structure remains. The vegetation here is dominated by tall Marri (Corymbia calophylla) with an understorey of banksia and rich low heath. The best condition vegetation in the Reserve extends east from Kargotich Road. Weed invasion is now being held at bay by the untiring efforts of the Serpentine Jarrahdale Landcare Group.
From the Management Plan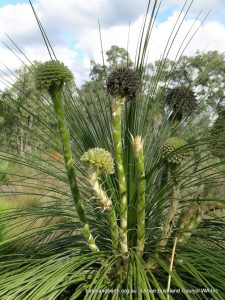 The Reserve has extremely high conservation, scientific and educational values. Namely:
Recognised as being one of the only two intact transects of native vegetation that span the various plant communities that run east-west across the Swan Coastal Plain.
Duckpond Reserve is the only 'Boyanup' soil type with remnant vegetation remaining on the Swan Coastal Plain.
Contains four threatened ecological communities. Two of these are ranked as Endangered.
These community types and the generally intact condition of the vegetation afford the reserve regional significance and the reserves are a Bush Forever site.
The reserve together with Soldiers Road Flora Reserve form a corridor of bushland from Byford to Duckpond Road and also connect with Byford to Serpentine Rail/Road reserve (Bush Forever sites 350 and 365), increasing its significance as a conservation reserve.
Contains ten species of threatened plant taxa, 74 taxa that are characteristic of the eastern side of the Swan Coastal Plain and at least 12 taxa that are endemic to the eastern portion of the plain. 
The reserve has recreation value for activities such as walking, bird watching and picnic site and is part of a Flora Road Circuit.
Watkins Road and Cardup Nature Reserves, and Brickwood Reserve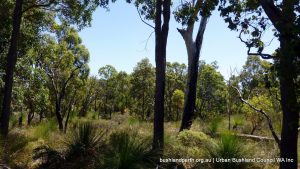 These are also relatively small in area, between about 40 to 80 hectares each, but each holds large patches of excellent condition vegetation within their boundaries. They are a delight to walk in springtime with superb displays of flowers in season. Each contains the critically endangered community `Marri – Corymbia calophylla – Kingia – Kingia australis woodlands on heavy soils , Swan Coastal Plain` association; listed under the EPBC Act.
A series of Marri dominated plant communities (such as this community) occur on heavy soils between  Capel and Guildford. These communities are considered to have been some of the most extensive on the eastern side of the Swan Coastal Plain, but have suffered extensive clearing and are now regionally rare.
Brickwood Reserve is located on the edge of Byford, the main urban centre of the Shire of Serpentine – Jarrahdale. It is a popular recreation node within the Shire and it contains the Serpentine – Jarrahdale Recreation Centre. The Reserve is also recognised as having significant environmental features, including being a Bush Forever Reference Site and containing one of the largest and most intact examples of the critically endangered threatened Marri – Kingia ecological community, protected under Federal and State policies, on the Swan Coastal Plain.
Watkins Road and Cardup Nature Reserves are similarly located near the South Western Highway, west of, and close to, a major rail link. Their values are equally as strong as those identified for Mundijong Road, but they provide, as does Brickwood, better walking and nature observing opportunities.
Vegetation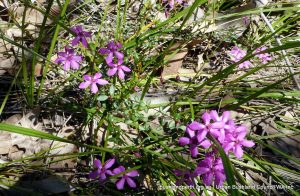 Structurally, the Reserves are characterised by:  
Uplands: Woodlands dominated by Marri – Corymbia calophylla and/or Jarrah – Eucalyptus marginata; Candle Banksia – Banksia attenuata, Firewood Banksia – B. menziesii and Bull Banksia – B. grandis. Woodland to Open Forest with scattered to co-dominant Western Woody Pear – Xylomelum occidentale and Christmas Tree – Nuytsia floribunda; Dwarf Sheoak – Allocasuarina humilis, Candle Hakea – Hakea ruscifolia, Buttercups – Hibbertia hypericoides low shrubland
Wetlands and damplands: Moonah – Melaleuca preissiana low woodland; Swishbush – Viminaria juncea and Two-leafed Hakea – Hakea trifurcata tall shrubland,  Semaphore Sedge – Mesomelaena tetragona and Hypolaena exsulca sedgeland. Pericalymma ellipticum closed heath; Pithy Sword sedge – Lepidosperma longitudinale sedgeland.
Bush Forever
With Mundijong Road Reserve, these are Bush Forever Reference Sites (sites 321, 352 and 360 – follow the link for maps, species lists and site descriptions).
Resources
Brickwood Reserve Management Plan.
Mundijong Rd Reserve and Duckpond Reserve Management Plan.
Marri – (Corymbia calophylla) – Kingia (Kingia australis) woodlands on heavy soil – Interim Recovery Plan.
Access
Mundijong Road Reserve
Access anywhere along Mundijong Road.
Watkins Road Reserve
Access the walking track from the un-named road off Watkins Road, lying nearly opposite Rose Road. Refer to the map image below (Image Gallery) for access points.
Cardup Reserve
Enter at the Reserve trail head at the end of Redcliffe Road.
Brickwood Reserve
Park at the Recreation Centre and then walk to an area behind the BMX track (near the corner of the t-ball oval) to enter onto the firebreak. This will give  easy access throughout the northern portion of the reserve. There are also several minor access points  along the fence line adjacent to Turner Rd.  Please stay on the firebreaks as the area contains Phytophthora fungal dieback disease. There are no entries for access to the southern part of Brickwood.
Mundijong Road and adjacent Reserves Gallery
Mundijong Road Reserve
Watkins Road Reserve
Cardup Nature Reserve
Brickwood Reserve