Inglewood Triangle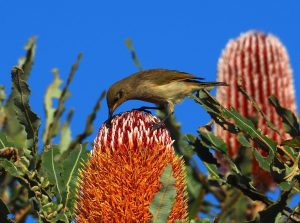 Inglewood Triangle is a small 1.7 hectare 'postage stamp' of natural bushland, also known as Walter Hamer Eighth Reserve, and is located 5 km north east of the Perth GPO, bounded by Walter Road, Hamer Parade and Eigth Avenue in Inglewood. It is an A class reserve managed by the City of Stirling's Parks and Reserve Department with on-ground assistance by the Friends of Inglewood Triangle supported by the City of Stirling.

UBC has not been able to discover records indicating exactly how Inglewood Triangle escaped the bulldozer. This serendipity must have occurred in the 60s subsequent to the construction of Walter Road to intersect Hamer Parade and Eighth Avenue.

The Triangle was part of Perth Location Ab and never sold (see Gallery – last image).

It is in a low lying area, a lot of which was swampy, which may partly explain why it was left undeveloped from the 1930's, unlike surrounding lands. The area was unfenced. It was probably grazed by cows from the nearby Quinn's Dairy (258 Eighth Ave) which operated from 1916 to about 1945. Its shape and size did not lend to any particular purpose so it was just left. (Source: Mount Lawley Society).

Nevertheless,  This bushland could have been long cleared for other purposes had it not been listed for conservation in 1992, in City of Stirling Green Plan 1 (A Strategy for the Conservation of Urban Bushland)  by a far-sighted City employee.  Green Plan 1 was developed after it was realised that small bushland pockets in parkland reserves were being systematically cleared for turf establishment. The central thrust of the Plan was that preservation and management of small bushland remnants was equally as important as preserving large bushland blocks for ecological linking and sustainability of local environments. 
The Bushland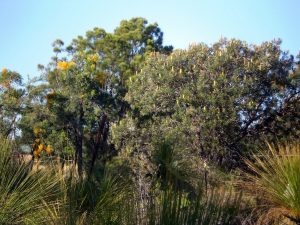 The Triangle is a near City example of a Banksia Woodland community and is situated on the Bassendean Sands landform. It provides a window into the past showing the natural bushland that once covered the area to the immediate north of Perth.
The nine tree species present in the Triangle are common to the Perth region thus providing a wonderful outdoor classroom for students of all ages. Along with the Banksias there are Balgas (grass trees), orchids, an extensive ground cover of rushes and sedges, hosting reptiles and birds.
The Triangle, while very small in extent, and while its vegetation and structure is perhaps better represented in much larger banksia dominated reserves such as Koondoola Bushland, is selected as a Treasure because, apart from Kings Park, it is one of the two closest substantially intact bush remnants to the Perth CBD. (See also Kensington Bushland).
It may well be 'postage stamp' sized, but it is packed with bushland diversity – as such it is a special gem! To date, an impressive 89 native plants have been identified in the Triangle.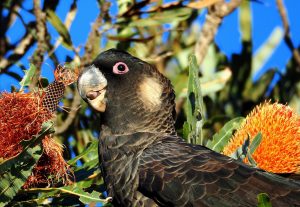 Inglewood Triangle bushland is in particularly good condition considering it is located within an established urban area. It forms part of an ecological corridor with Mount Lawley Golf Course, Macauley Park, Hamer Park and Yokine Reserve.
Nevertheless, there is a range of impacts threatening the biodiversity of the Triangle including weeds, unleashed dogs, cats, foxes, bushfires, dieback, feral bees, litter from passing motorists, herbicide spraying over many years, declining ground water and climate change. The Friends work actively to manage these and are very welcoming of new volunteers.
Access
Access is easiest at the Reserve gate on Eighth Avenue. Please remember when visiting Inglewood Triangle: Dogs on leashes only, and, please clean your footwear at the dieback stations located at the entrances to the Triangle.
Resources
Field Guide to the Plants of Inglewood Triangle.
Field Guide to the Birds of Inglewood Triangle.
Fungi and Slime Moulds of Inglewood Triangle.
Also, see Friends of Inglewood Triangle page.
Inglewood Triangle Gallery
Inglewood Triangle Location